Along with the development of economy, the demand of living standard also increases. People is looking for a high-end apartment to try a new, youthful and modern lifestyle. Biotic utility environment also asks for abolish spectra of old-established collective houses. For example, the way rakes garbage in traditional need to be replaced by the garbage pipe. People used to pour garbage on time if they don't like to live with garbage. Now, they can pour garbage anytime they want if their apartment has garbage pipe.
On the occasion of Hacinco High building, which are going to entertain a Sea game athlete who is organized at the first time in Viet Nam?  I wonder how the guests can bear the terrible stench, especially in Staircase. "How I do reject this terrible stench from dust bin". This president's ponder make me have to solve this problem.
The garbage pipe has a highly social sense because of convenience, being friendly with environments and infected maladies. The garbage pipe used to be built by cement   and wasn't high- specialized. This garbage pipes would be infected, mould and stench.
Especially, the cement will take up dirty water so we can't clean up; we can only beat it down.
In developed countries, composite garbage pipes have been applied in construction for a long time. Base on the plastic characteristics, composite garbage pipe has the advantage which is light, easy in construction, install and maintain. Specially, it is waterproof, so it is non-mould, clean but needn't to be cleaned
With a wish to bring the developed country's product to Viet Nam and the realization that Compotech had 13 year to keep his foothold and succeed on the market with many composite products, I wonder "Why don't I make use of strongpoint of my company to improve people's living?"
The cogitation and disquiet in the initial time make me have to examine the production of composite garbage pipe from 2000.
In 2002, the first composite garbage pipe showed itself on the market at HACINCO student village, Hanoi. An  embossed pre-eminence of the Compotech system of composite garbage pipe due to the good calculated of  aerodynamic that the air is always sucked in, doesn't take stench outside. Our product is highly valued.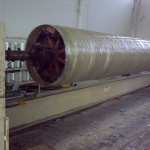 After 13 years, from 1993 to now, our company has already had strongpoint in composite production. Specially, composite garbage pipe is a product in module so it is easy to install in high altitude. With production process and quality inspection systems, clients first to know come and have trust. Compotech believe that the composite garbage pipe will be a selected newly of Vietnam's construction in this epoch.